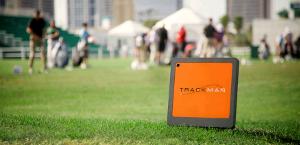 It's that time of year to make sure that your swing and your equipment is the best that it can be for the season ahead.
Together with Trackman, I can offer you a service that offers a in-depth assessment of your swing and your equipment and how it impacts on your game. As a result of my recommendations I guarantee a host of genuine performance benefits:
- Increased accuracy
- Increased distance
- Increased consistency
- Increased enjoyment
TrackMan has set the industry standard for accuracy as it delivers real-time data and graphics on club movement, ball launch, the flight and landing. TrackMan has set a new standard for golf ball and golf club measurement.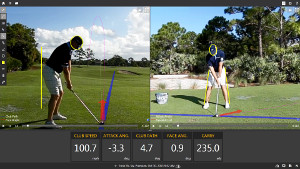 The TrackMan radar unit tracks the trajectory of your golf ball from launch to landing. The ability to measure the full ball flight is essential to produce the highest quality data. This is impossible to do when hitting into nets or using range balls.
Using TrackMan I have a precise picture of what the club is doing during the swing and at impact. With this information, I can recommend the best way for you to play better golf - whether that's by making some changes to your basic set up or with some easy changes to your swing. The new equipment out now is so good that if your present equipment is more than 3 years old then, the performance enhancements to your game are almost guaranteed. TrackMan clearly shows the extent of these improvements for you to then decide if that improvement warrants your investment.
The technology used is called doppler radar and has been widely used in military applications to track missiles and projectiles since the 1960s.
TrackMan is used by the USGA and the R&A for golf equipment testing, while top professionals from the USPGA Tour and the European Tour use TrackMan for practicing and optimising their equipment.
How does it work?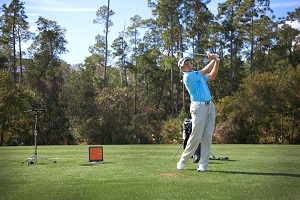 A TrackMan session lasts for 1 hour. Sessions can be taken on any aspect of your game from short pitch shots to your driver. Trackman takes measurements and readings of your swing so that I can accurately assess what's happening during your swing, see how your current equipment is performing and make the best recommendations on how best to improve your golf. It's very clear for you to see what is happening and see what improvements you can make. It is carried out on our outdoor grass tee practice area, this allows us to see the improvement in the flight of the ball (something you cannot get from hitting balls on a simulator), with being able to hit from the turf giving you a true feeling for the clubs performance.
I am totally impartial and I have no 'biased tie ins' with particular club manufacturers that some of 'my competitors' may have. My advice is sincere and I will make only recommendations that will improve your game.
If you are having a TrackMan fitting session you will get to see the like for like performance against your existing clubs so YOU can make an informed decision on any purchase.
Come along and try the very latest equipment.
Click here to get in touch if you would like to book your Trackman session.
Motocaddy's 'how to... Care for your battery'
Click here to find out how to maximise the efficiency and lifetime of your Motocaddy Battery Read more.......
PowaKaddy Repair Centre
Brian Connor's House of Golf is the North West's leading PowaKaddy repair and service centre for all regular servicing or repairs under warranty. Read more.......