Brian Connor's House of Golf
The Professional Shop is open 7 days a week and is packed to the brim with a huge range of clubs and golf accessories from PING, Titleist, TaylorMade, Callaway, Cleveland and Mizuno.
There is a wide range of leisure clothing for ladies, gents and juniors including Lyle & Scott, Under Armour, Galvin Green, Nike, PING Collection, Glenmuir, Green Lamb, Daily Sport and Oscar Jacobsen. With special offers on throughout the year, come and see the great choice for yourself.
The Golf Performance Centre and Putting Lab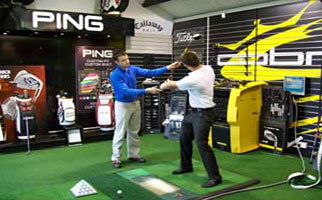 In 2008, we created a state of the art Golf Performance Centre at the club, which allows amateur golfers to take their game to a professional level. This unique fitting facility and video analysis room has been dubbed by industry professionals as 'The best Club Fitting Facility outside the Belfry.'
You will receive the most comprehensive service possible, including custom fit with expert advice from PGA Professionals and our "try before you buy" facility. You can be fitted to clubs from PING, Titleist, Callaway, TaylorMade, Cleveland and Mizuno.
2011 marked the opening of the Putting Lab. Using Science and Motion Technology and V1 Digital Capture Software, our PGA Professionals are able to advise on technique and stroke, or to fit customers with a putter that will give them the best opportunity of making those vital putts.
A large range of PING, Scotty Cameron, Odyssey, Yes and TaylorMade putters can be tried in the Putting Lab and on the putting green making this a facility that customers travel from far and wide to use
Lessons & Tuition
Whatever your aim in golf, a course of lessons or tuition with one of the House of Golf professionals in the Swing Studio or on the driving range will almost certainly allow you to derive greater pleasure from your round of golf.
Sessions are focused, affordable and invaluable, aimed towards helping any individual reach their full potential... bunker play, fairway woods, putting, short game, driving and iron play are all covered.
Lessons can be taken on either of our three short game areas, on the driving range, under covered bays, on Astroturf ™ mats, or in better weather from our grass bays to give you a great test of your swing under more accurate conditions.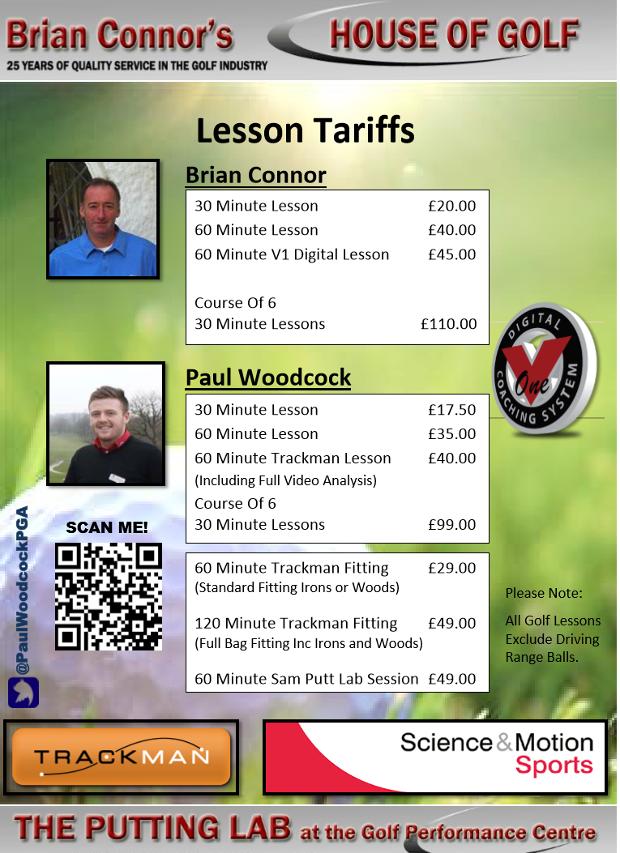 Click here to get in touch if you would like a lesson here at the House of Golf
Please note - All lessons exclude the cost of range balls :
Small basket -

£2.00

Medium basket -

£3.50

Large Basket -

£5.00
The V1 Digital Video System
Many customers have found that they prefer to enhance their conventional golf lessons with indepth digital analysis. With the V1 Digital Coaching System your swing will be captured by video and analysed through the V1 Digital Software to help you understand your swing better (this software is widely used by tour players and is the main tool used by David Leadbetter at his golf academies). Your coach will give you drills to work on and swing thoughts to further advance your swing. You will be given a DVD of your lesson to take home or you can access your lesson online.
The Putting Lab at the Golf Performance Centre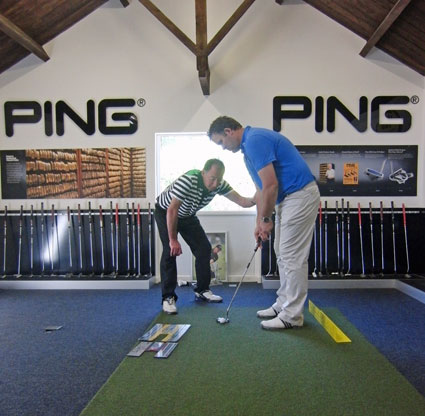 In 2011 we opened the Putting Lab at the Golf Performance Centre to complete the services that are offered at Manchester Golf Club to golfers both in terms of the golf swing and the art of putting.
We are one of only a few centres offering this level of service making us very specialised in our approach to putting coaching & putter custom fitting.
Ben Hogan once said 'There is no similarity between golf and putting - they are two different games - one is played in the air and the other on the ground'

In the same way that the angles created during the golf swing impact on the outcome of a golf shot. The same is correct in putting.
We all have individual putting traits but there are a number of constants that can affect our putting. If the toe of the putter is not level and is either up or down, it can immediately misdirect the ball off line. If the individual's putter is not square at impact, it can also immediately misdirect the ball off line. If the loft of the putter is wrong (most putters have 4 degrees loft), the ball can immediately go airborne or be driven into the ground, which will cause the ball to bounce.
Motocaddy's 'how to... Care for your battery'
Click here to find out how to maximise the efficiency and lifetime of your Motocaddy Battery Read more.......
PowaKaddy Repair Centre
Brian Connor's House of Golf is the North West's leading PowaKaddy repair and service centre for all regular servicing or repairs under warranty. Read more.......